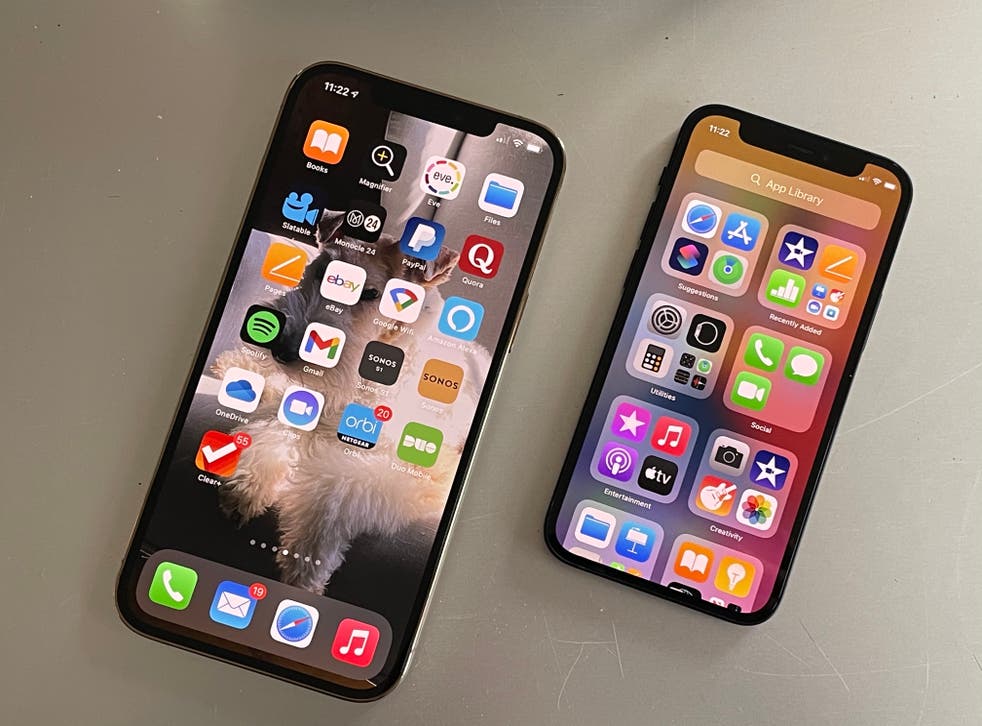 iPhone 12 Mini and Pro Max review: Strikingly small, powerfully big
Big phone easily the best phone Apple has made – but the small one shows it has something for everyone
The latest iPhones hit stores on Friday. The first iPhones of the autumn, the iPhone 12 and iPhone 12 Pro, were identically sized; they both have a 6.1in display. But the new models – the iPhone 12 Pro Max and iPhone 12 Mini – are the outliers: little and large. I've been trialling both new handsets for more than a week now.
The little is the strikingly different iPhone 12 mini with a 5.4in display. It looks the same as the iPhone 12 but is noticeably smaller. Apple says it's the world's smallest and lightest 5G phone.
The large is the iPhone 12 Pro Max, which has the biggest screen ever on an iPhone - 6.7in - and while it superficially resembles the iPhone 12 Pro, it has better cameras, a bigger battery and, of course, a bigger price tag.
There are some features which are common to all the iPhone 12 models, so in some ways Apple is making choosing a simple matter of which phone fits your hand best.
All the phones have 5G connectivity, an amazingly fast processor called the A14 Bionic, cameras capable of recording Dolby Vision video and a new, tougher protection for the display called Ceramic Shield.
Apple says this contains so many ceramic particles you shouldn't really call it glass any more. Whatever you call it, the point is that it is much tougher if you drop it. Four times better at surviving a drop, Apple says.
I haven't deliberately flung it down to test this, but independent testers are reporting much greater resilience. Which is great for peace of mind. Apple also says that the move to a new flat-edge design has also introduced new processes that make the rear glass tougher, too.
All four phones have this new flat-edge design. Thankfully, those flat edges are still comfortable in the hand, even on the larger iPhone 12 Pro Max. The mini comes in five colours, black, white, blue, green and PRODUCT(RED). The Pro Max has four choices, silver, gold, graphite (very dark grey) and Pacific blue. The gold has a gaudy, shiny edge to the frame, so won't suit everybody's taste, but I really like it.
The iPhone 12 Pro is reportedly already selling well, but my suspicion is the iPhone 12 mini will be a very big seller indeed. If you don't want a big phone, because your hands won't stretch to one or it'll ruin the line of your suit, or some other reason, the iPhone 12 mini is pretty compelling.
Pick it up and it's initially hard to take on board how compact it is, so big have phones become. In fact, it's smaller than the iPhone SE released earlier this year. But when you turn the display on, the 12 mini changes before your eyes. Where previous iPhones featured a Touch ID fingerprint sensor at the base and a wide area outside the screen at the top, this is an all-screen handset. Small though the phone is, the display is almost as big as last year's iPhone 11 Pro - that had a 5.8in screen, measuring just 0.4in more than the new handset.
It's also the first iPhone as small as this to feature an OLED screen, with a much higher resolution than the LCD screen of the iPhone 11, for instance. As a matter of fact, this display is the highest-resolution iPhone screen ever, beating the other iPhone 12 handsets. It's not so much of an increase (476 pixels per inch here, 460ppi on the iPhone 12) that you can see a difference, but it looks as good as the other iPhone 12 screens, which is very. Pin-sharp, bright and with great colour fidelity.
Watching video on the mini is immersive, though it may not turn out to be your screen of choice for long movies or box sets.
The benefits of a smaller phone include easy navigation – nothing is out of reach on this screen where larger screens require a stretch. After I'd got used to the smaller size I only had one issue: my fingers found the onscreen keyboard tight to use. Apple's QuickPath typing system, where you simply swipe your finger between letters, only lifting it off the screen between words, solved this issue, and of course, you can also dictate text, punctuation included.
The battery lasts a full day, even on a phone this size, but at bedtime I routinely found it had between 19 and 25 per cent charge left. That's more than enough, but no match for the larger iPhone 12 models.
Partly, that's down to 5G, which is notoriously more power-hungry, especially when your phone is looking for a 5G signal which is still not everywhere. In fact, if you live in a non-5G area, I'd recommend turning the 5G connectivity off until the network reaches you.
When it comes to battery life, though, the iPhone 12 Pro Max is epic, it just goes on and on. I regularly found more than 40 per cent battery at the end of the day.
The size permits a bigger battery, of course, but everything about this phone is eye-catching. The 6.7in display looks magnificent. That's not surprising when you think that many tablets only offer a screen a fraction of an inch bigger.
Even so, thanks to the flat-instead-of-curved edges, it doesn't feel any bigger in the hand than last year's iPhone 11 Pro Max. Personally, I found that it was usable with a thin case, but trying it with a wallet case that wraps around it with layers of leather made it just too big for my liking. And, for sure, smaller hands will likely find it too much.
In performance terms, it's near-identical to the other phones in the range, that is, it's super-fast whether you're playing a graphics-intensive game (which looks phenomenal on this big display), streaming video, or just opening emails and launching apps. That's down to the A14 Bionic app which seems to have significant headroom above the demands made on it. As the months go on and developers craft apps and games to push the chip harder, if previous Apple processors are anything to go by, it should be able to cope.
Big screen apart, it's the cameras which set the iPhone 12 Pro Max apart.
Last year, the photographic capabilities of the iPhone 11 Pro and 11 Pro Max were identical but this time Apple has taken advantage of the extra space available to introduce a bigger sensor on the wide camera, with bigger pixels for faster performance. Where the iPhone 12 Pro offers strong improvement over the iPhone 11 Pro, it's 27 per cent better in low light, Apple says, the Max camera has a huge leap forward, it's 87 per cent better, it's claimed.
The telephoto camera is also different from the 12 Pro. Instead of a focal length the equivalent of 2x the wide lens, the Max goes further: 2.5x. That's the first time Apple has done this and it makes a big difference.
In practice, I found the iPhone 12 cameras across the board better than the iPhone 11 and 11 Pro, but the real change comes with the 12 Pro Max, with richer images on the wide lens and closer. In low-light and medium-light situations, the iPhone cameras excel. Apple specialities like Deep Fusion, where multiple images are combined to improve details, are really outstanding. And this year, Deep Fusion is available on all the cameras on every iPhone 12 model, including the front-facing camera.
Similarly, the great-looking Portrait mode, where your subject is in sharp focus and the background elegantly blurred has been improved so the iPhone knows better what's background and what's not.
Night mode continues to be remarkable: it launches automatically and uses image stabilisation with long exposures to create images in even the darkest situations which are recognisable, without boosting light levels unrealistically.
All the new iPhones have a feature called MagSafe, which uses a ring of magnets inside the case that align with a special MagSafe wireless charger, sold separately, which ensures correct placement of the phone on the charging pad, so you don't find in the morning that you misplaced it and the phone didn't charge.
By the way, as you may have heard, iPhones no longer come with a charging plug or wired earphones. The much-smaller box now contains just the iPhone and a USB-C to Lightning cable as Apple reckons you probably have a bunch of chargers and EarPods knocking around and is eager to reduce electronic waste.
These two iPhones are the extremes of size in the current range. If your hand, and your budget, will stretch to it, the iPhone 12 Pro Max is easily the best phone Apple has made, with a gorgeous big display, outstanding cameras and exceptional battery life. It costs £1,099.
But if you don't need something that big, the iPhone 12 mini costs just £699, that's over a third cheaper, with the same design, performance, Ceramic Shield, and 5G connectivity but in a much more compact case. Across the iPhone 12 range, Apple has something for everyone.